Take a look at some popular websites these days and while they will all be unique, there will still be basic design and development elements present, whether you notice them or not. This includes incredibly important details like mobile responsiveness and page speed. Without these elements, your website is sure to displease your customers and end up falling behind competition that does a better job.
Instead, it is the job of design and development specialists to keep these principles in place while still designing a custom, unique website. When done well, your website should be mobile friendly, load fast, show visitors the information they're looking for, and encourage them to become customers (just to name a few!) Some of the latest websites designed by our Webdirexion team showcase how basic principles combine with unique designs to create websites for a variety of industries.
Coffee Nut Hut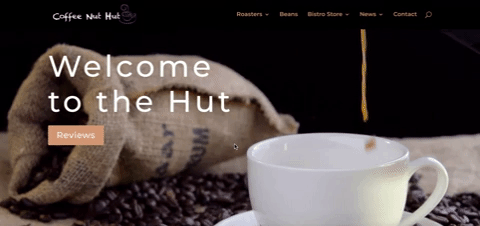 An affiliate website selling coffee, Coffee Nut Hut needed an engaging and interesting website. Fast to load, this website features a simple but effective layout with photos and a background video. The main page showcases many coffee brands and provides easy links for customers to get more information. The website has a mobile-friendly design and is set up to encourage people to purchase coffee from the moment they land on the homepage. Visitors can find coffee they might like, check out more information about a particular blend, and then click to be transferred to Amazon where they'll be able to easily purchase the coffee they're interested in. This links the sale to the website but makes it easier for the customer to make their purchase via a trusted seller.
BlueStar SeniorTech
BlueStar SeniorTech is a website designed to sell medical alerts and other technology for seniors. The main page shows information about the company as well as photos. Scrolling down lets the visitor easily see some of the highlights of their product line. This site is mobile-ready, loads incredibly quickly, and is designed to encourage more sales. It's also designed to be easy for seniors to use to find the information or product they might be looking for. They can scroll through the options to find something they're interested in, click to view a product description, and then click once more to add the product to their cart. The simplicity in this ecommerce-based design means even seniors can shop for the tech they might need.
GoNorthStar
The website GoNorthStar is a company website designed to integrate various related blogs and to give visitors one place to find everything they might need. The website is designed to provide a tranquil feeling, to set the mood for visitors to the website, and to make it easier for the visitor to find the information they're looking for. Mobile-ready, this website includes numerous links in the menu to make finding the right information as easy as possible. It also includes highlights from the blogs to ensure customers find the information they need and are encouraged to stay on the website longer.
Each of these websites is completely different from the others, yet they're all successful because they include what visitors need. Webdirexion can create a website to suit any client's needs and can customize the website for any brand in any industry. We know exactly what's needed to create a website whether it's a basic, informative website, a more complex e-commerce website, and anything in between! Contact us today to learn more about what we offer and what we can do for your business!